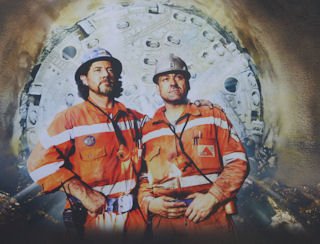 Photo of a Poster Celebrating the New World Record
After 17 years of work, Swiss mining engineers finally drilled through the last section of rock, between Faido and
Sedrun
, to complete the 57km tunnel through the base of the Gotthard mountain; creating what will become the world's longest rail tunnel.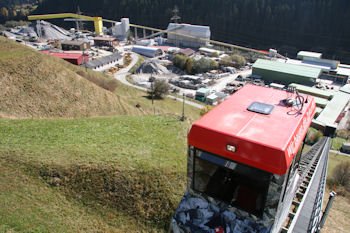 Going Down to Tunnel Entrance at Sedrun
Some two hundred guests were invited to witness the final breakthrough live, deep in the belly of the Alps, while celebrations were held in a marquee on a sports field at the mountain village of Sedrun; 2,000m above where the two ends of the tunnel became one.
Trains are expected to use the tunnel by 2017, reducing the travel time between Zurich and Milan to two hours and forty, instead of the four hours ten minutes the journey currently takes; but travellers in the tunnel won't get the mountain views.
The Glacier Express Passes by Sedrun
Around 300 trains a day will be able to travel at speeds of 250km/h (155mph), thanks to a project that has cost an estimated 9.8bn Swiss francs (about £6.4bn or $10.3bn).
That may seem like a tremendous amount of money, but due to the increasing freight traffic coughing out diesel fumes in the area, the project was considered a huge saving for the environment; althought the final cost may top 12bn Swiss francs - close to 5 billion over the initial cost plan.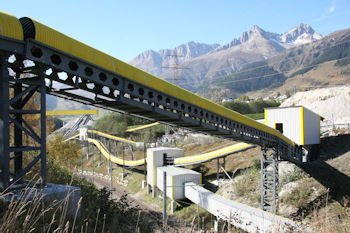 Removing the Rock From the Mountain at Sedrun
Swiss voters gave the project the go ahead in a referendum held on 27th September, 1992 - with 63.6% of the voters in favour. A year later, on 22nd September, 1993 test drilling for the tunnel started at Polmengo.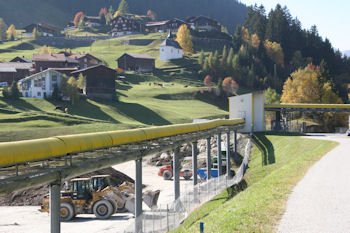 Resculpturing The Alpine Landscape
About 2,500 people have worked on the tunnel, that cost the lives of eight people during its construction.
The End of The Road For The Gotthard Rock
All photos by Michel -
Photos.TravelNotes.org
.