There's something special about the Tour de France that, like all great sporting events, should be experienced live.
The best place to watch the race unfold is in front of the television.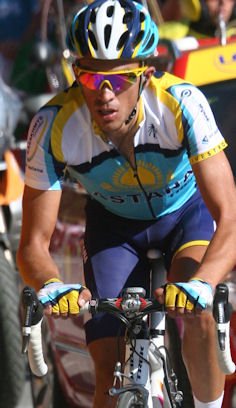 Alberto Contador - 1st in Verbier
With cameramen on motorbikes and tv crews shooting from helicopters in the sky, you are treated to different visual angles of the cyclists rolling through a varied French countryside.
A good commentary team on board can share a wealth of background information on the various chateaux, regional foods, and even something insightful about the cycling itself.
If you're a fan of
Eurosport
, you can even join in with other cycling fans on the (Yahoo)
Message Boards
.
While watching the race on television you'll see places with a number in brackets. This number represents the
French Department
(département).
For real atmosphere though
, you would want to get out on the road for a stage or two; especially after you've seen a few tours on the screen.
Where to See The Riders For Real
The first thing to do is to look at the Tour de France route and see if the peloton will pass by anywhere you intend to be, or anywhere you would like to visit.
If you're using public transport, the departure and arrival points are often the easiest places to get to and there's always a party atmosphere when '
Le Tour
' comes to town.
Last minute accommodation may be hard to find though and large crowds can make it difficult to get good pictures, if you don't have a photographer's bib.
If it's
photographs of the cyclists
you're after, then it's better to stake out a place on the route itself. This needs thinking about too; or you could find yourself waiting for hours, only for the peloton to pass you by in seconds.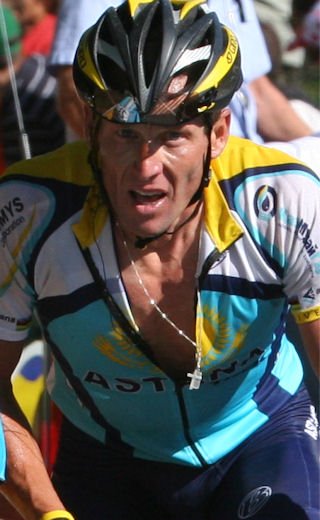 Lance Armstrong in 2009 - by Michel Guntern
Riders slow down at feeding stations and tend to go slower on the steeper inclines.
If you're fortunate, you might even be lucky enough to have a bidon (water bottle) discarded in front of you; as we did, just after the Delle feeding station in 2009.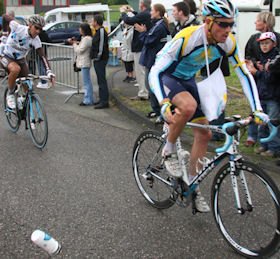 Getting Into Position
The official Tour de France website gives an estimated time schedule for each stage but not when the roads close; check out the local municipal websites for that.
If you have a camper van (RV or motor home) and want to park it on the side of the route, you need to find your spot early; sometimes the night before. Choosing this option also means you could be stuck in traffic jams for hours after the race.
You may prefer to study a
local map
and leave the car close to where you want to be but not on the route itself; for a quicker getaway.
Keen cyclists can always get themselves into good positions on the climbs and then beat the traffic jams back down to the bottom.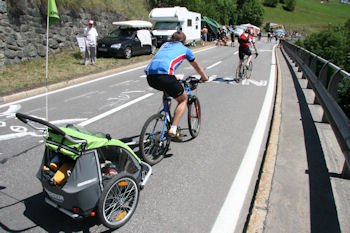 Waiting For The Riders
The Caravane
precedes the cyclists by about an hour and a half. This is when the decorated vehicles of the sponsors pass by; promoting their brands in something of a carnival atmosphere. When you see helicopters approach, you'll know the cyclists are getting closer.
It's also a good idea to check out the
Weather in France
for the coming week.
Meteo.fr
has a good weather map that you can zoom in on.
If you're really interested in travelling around France to follow the tour, then you should consider getting your hands on a copy of Graham Watson's
Tour de France Travel Guide
.
Paris Champs-Élysées
The last stage of Le Tour, with its prestigious finish on the Champs-Élysées, is always highly attended.
You may not get the best view of the riders at the finish but at least there's plenty of
hotels in Paris
and you can say you were there. If you can get there early enough (the night before) the fountain by the final run-in is a good place to be.
The Place de la Concorde is where the team buses are parked up and you may catch some of the riders around here after the race is over.
Tour de France 2011
-
July 2nd to July 24th
:
1 Saturday, 2nd July: La Barre-de-Monts to Mont des Alouettes.
2 Sunday, 3rd July: Les Essarts (team time-trial).
3 Monday, 4th July: Olonne-sur-Mer to Redon.
4 Tuesday, 5th July: Lorient to Mûr-de-Bretagne.
5 Wednesday, 6th July: Carhaix to Cap Fréhel.
6 Thuray, 7th July: Dinan to Lisieux.
7 Friday, 8th July: Le Mans to Châteauroux.
8 Saturday, 9th July: Aigurande to Super-Besse Sancy.
9 Sunday, 10th July: Issoire to Saint-Flour.
10 Tuesday, 12th July: Aurillac to Carmaux.
11 Wednesday, 13th July: Blaye-les-Mines > Lavaur.
12 Thursday, 14th July: Cugnaux to Luz-Ardiden.
13 Friday, 15th July: Pau to Lourdes.
14 Saturday, 16th July: Saint-Gaudens to Plateau de Beille.
15 Sunday, 17th July: Limoux to Montpellier.
16 Tuesday, 19th July: Saint-Paul-Trois-Châteaux to Gap.
17 Wednesday, 20th July: Gap to Pinerolo.
18 Thursday, 21st July: Pinerolo to Galibier Serre-Chevalier.
19 Friday, 22nd July: Modane to Alpe-d'Huez.
20 Saturday, 23rd July: Grenoble (individual time-trial).
21 Sunday, 24th July: Créteil to Paris Champs-Élysées.
Large Map
-
Cycling on Twitter
.
Labels: cycling, France, photography, sports, Switzerland, Tour de France