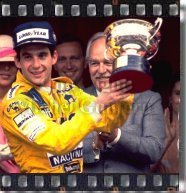 With the Formula 1 season revving up for the 2008 start this weekend in Australia, I know I've left my
F1 Travel Guide
a little late.
But the article has been totally updated with all this season's race fixtures and all the links checked and altered where necessary.
There are two new street circuits to visit this season: Valencia (August 24th) and Singapore (for night racing, on September 28th).
I fancy making the trip down to Valencia myself but don't think I'll manage (or afford) to travel to Singapore the following month; unless anyone feels generous enought to sponsor me.
Hopefully I'll get around to updating the Monaco GP article soon.
If you want to travel to one of the Grand Prix races this season,
read the article
.